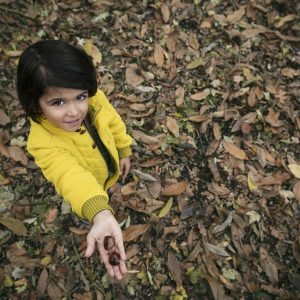 Note: This program is temporarily unavailable, due to restrictions associated with COVID-19.
We are excited to announce that we are now collaborating with the Guelph Outdoor School. Once a week, a naturalist from GOS takes our children out to explore the naturalized areas near our school. They explore the native flora, learn how to identify plants and trees, cultivate an awareness of the plants that are growing in their environment and develop a love of nature. Our children will also be shown survival tactics if they ever find themselves lost.
Children learn about various animals, birds, and insects that share their environment. They gain experience in identifying and following animal tracks, learn the names of animal homes, their diet, and habitat. Our teachers will use the training they receive from GOS to reinforce the children's awareness during our regular walks and outings. And all this is done OUTDOORS! The program opens children's eyes to nature and connects them to it in a hands-on way. One of our goals is to offer our children sources of enjoyment that they can carry with them throughout their lives. Like literature, music, and theatre, a love of nature can be enjoyed at any age.